This Week's Recipe
I'm a big fan of recipes for which the ratio of effect (deliciousness, with bonus points for presentation) to effort (time, skill, and stress) is high. This one definitely qualifies: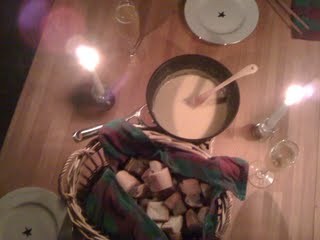 Three-Cheese Fondue with Champagne
It was super-easy and pretty darn quick to make, yet absolutely delectable. (My presentation could use some work here, but our fondue pot is on the other coast, so I'm giving myself some slack.)
Two small adjustments to the recipe, courtesy of a couple of commenters: I thinly sliced, rather than chopped, the shallots, and I combined the cornstarch/lemon juice mixture with the grated cheese instead of adding it separately.
And one discovery, courtesy of Zach: chopsticks work just as well as fondue forks (and are a much better bet if you are eating the fondue out of a nonstick pot!).
This is another great wintry recipe (yes, I'm still pining) and would be perfect for a romantic meal (you'll have leftover champagne to drink). The recipe says it serves two, but four is more like it. Guess we'll find out how well fondue works as leftovers. . . .