Aaaahhhhh.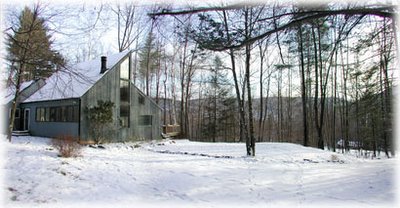 We escaped.
Yesterday, Jody and I felt an overwhelming need to
escape
: escape our crammed calendar, escape the parade of doctors' appointments, escape the familiar environs for something exotic—even if only for a few hours. So toting little more than our toothbrushes, we hopped into our beloved '88 VW Cabriolet late last night and drove upstate, arriving at our country house in
Phoenicia, NY
by 11:30.
We bought the house scarcely a month ago, the culmination of years of dreaming for a little patch of ground that we could slip away to when NYC was too draining and we needed a recharge. We had planned to spend the next several months whipping the house into shape and furnishing it. Those plans are absolutely still happening, just with a bit of a reworked timetable while we deal with the current matters.
So for now, we had to be happy with zipping up, making a fire, blowing up the aerobed, spending the night, and zipping home again this morning. Half of the reason we took the trip was to make sure the house hadn't blown away or burned down while we ran around seeing medical folks for the last three weeks. (I was at the house repairing a door on December 5 when Jody first called me with the news that the lump she'd found was malignant. It was agonizing being two hours away and not being able to hold her and console her. I resolved on the spot to be sure that I'm always with her whenever she receives news from now on, even if we fully expect that news to be good.)
Our sojourn last night was the first time back to Phoenicia for either of us since I left on the 5th. Everything was just as I'd left it, naturally. We unwound a bit, took in the peace and quiet of it all, and reminded ourselves that there
will
be a life for us outside of all the crap that is yet to come.....