Yes, It's Only April
But we've had sweet strawberries for a few weeks now, so I gave this recipe a try tonight: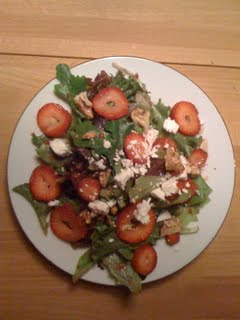 Mixed Green Salad with Strawberry Dressing
I have to say that the comments are key on Epicurious—if I hadn't read them, I wouldn't have known to cut way down on the olive oil in the dressing. It's a very pretty salad, although Zach and I agreed that it was a bit unbalanced—my version needed more bite to offset the sweetness of the strawberries.
I made extra dressing, so I'll be able to experiment with adding that bite later this week. . . .