Action Shot
This is me grilling baby artichokes—certainly the first time I've ever made artichokes (baby or otherwise) and one of the only times (quite possibly the first) I've used our grill in the nearly seven years we've had it.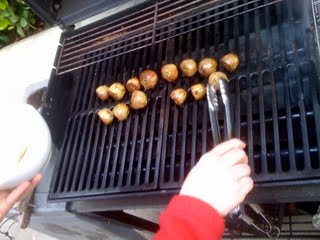 While my mom was here visiting, we took a day trip to Ojai (which I had previously known only as the hometown of the
Bionic Woman
). Turns out Ojai has a
spectacular farmers' market
, which last Sunday featured quite beautiful purple baby artichokes.
Inspired, I bought a bunch and then went searching for a promising recipe. I alighted on
this one
, only to discover that the
first commenter
offered a variation that nearly every subsequent commenter followed, so I did the same.
I had to look elsewhere for
trimming instructions
, and I had to do some substituting (balsamic instead of red-wine vinegar; dried basil, thyme, sage, and marjoram in lieu of herbes de Provence), but otherwise this was an easy, if multi-step, process. A recap:
Trim artichokes.


Simmer until tender.


Cool, then refrigerate until cold.


Marinate in vinaigrette.


Grill until lightly charred and warmed through.
So good!